About La Maniere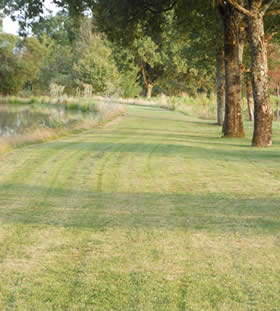 La Maniere is a 5 acre spring fed lake with clay bed, with gravel and sandy areas. The depths range from 1m to 4m. Most banks are tree lined, there are 5 swims around one side of the lake. All with easy access which will allow for a good choice of water.
La Maniere caters for three anglers with exclusive use of the lake and chalet, also included are three permanent cabins at three swim locations.
The lake was emptied in 2010 and extensive work was carried out. All existing fish were removed and the lake was restocked, so there are no nuisance fish, poison chat or crayfish. Additional stock was added in 2012, 2014 , 2015 and 2017 all of which were between 35 – 45lbs. The lake has only been fished by family and close friends and not as a commercial fishery.
The lake is stocked with carp to over 50lbs.
We look forward to seeing you.